La journée du dimanche 6.
C'est quoi le roman ou livre non fictif à lire en ce moment ?
Pas trouvé pour le moment.
Exhibition part of the day
Names to have in mind with iconic photograph :
43 :
AB+DM
Ahmad Barber.
Orna,19
A personal description would be a black women with pearls and blowy skin.
53
Travis Owen.
Gideon,19
A personal description would be …
Arielle Bob Willis
Anti selfie mode.
Personnal note : work easy to remember it is about hidden face, hidden faces.

Nxedelana
Interesssante- "Colonialism/ white supremacy". "Idea that blacknesss is homogeneous" "fighting that dominant idea"
Personnal note : This is the idea of cosmos os possibilities in therms of photography with blackness subject. As in any other white European movement to be honest.
Adriennne Raquel- Hot stuff. 2019 et mirror. Ceux sont ces iconic un peu.
Personnal note : A description would be the afro, and the pinky world where a women is looking at herself.
Kennedi Carter, Jaelle 2020. J'aime bien. Peaceful
Personnal note : A little girl in a peaceful mood.
"It is the end. 8pm.
This city just takes money. It is a money eater food wise, fashion wise, transport wise.
What was expecting?
We are in a balance of about 8pound expense in bus. Grocery 15. Dinner 50.
Chrismast card 10. Fashion 7.
A total 90. Just for a day.
Can I do late night shif to cover this "I don't care, I spend day?".
30's is an age where you don't particularly have a career but you want to spend and appreciate your freetime." She said.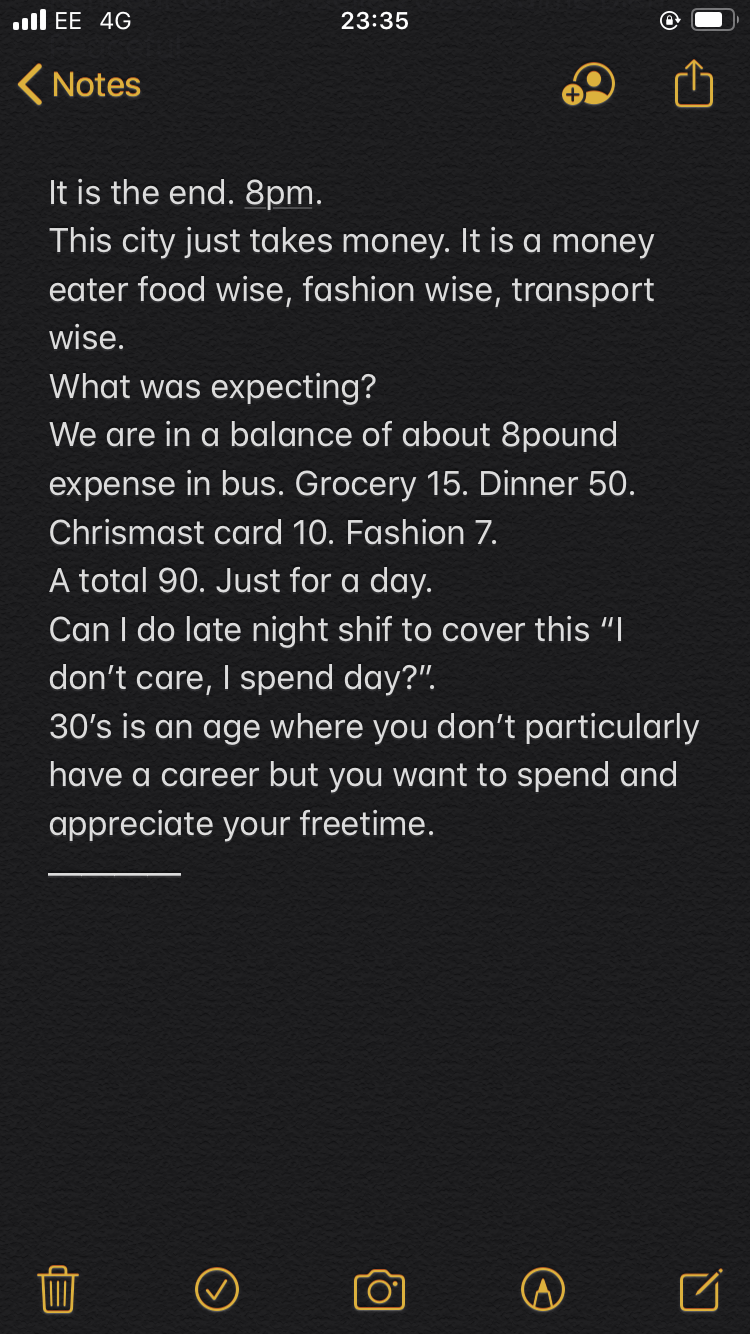 To copy paste document here. An expected evening someone stumbled down 3 floors. It was a warm evening and bubbly atmosphere. We thanks the waiter/waitress team in our way as we should.
It is now 5:15
I have been waiting half an hour.
"Before gaining the transport to go to uni. I believe it is a 8:00 am class today.
Today my mind won't be into it I need sleep and need to recover from unexpected expense. However I am grateful and feel blessed for this escape. It was required before starting school. One cannot work full time during the holidays and go back to school is required, in order to be as potentially efficient as the other student that do not work and that manage to have a full week break" she said.