(Week 24) Dimanche : Je me reveil aced une haleine hate de brosser mes dents.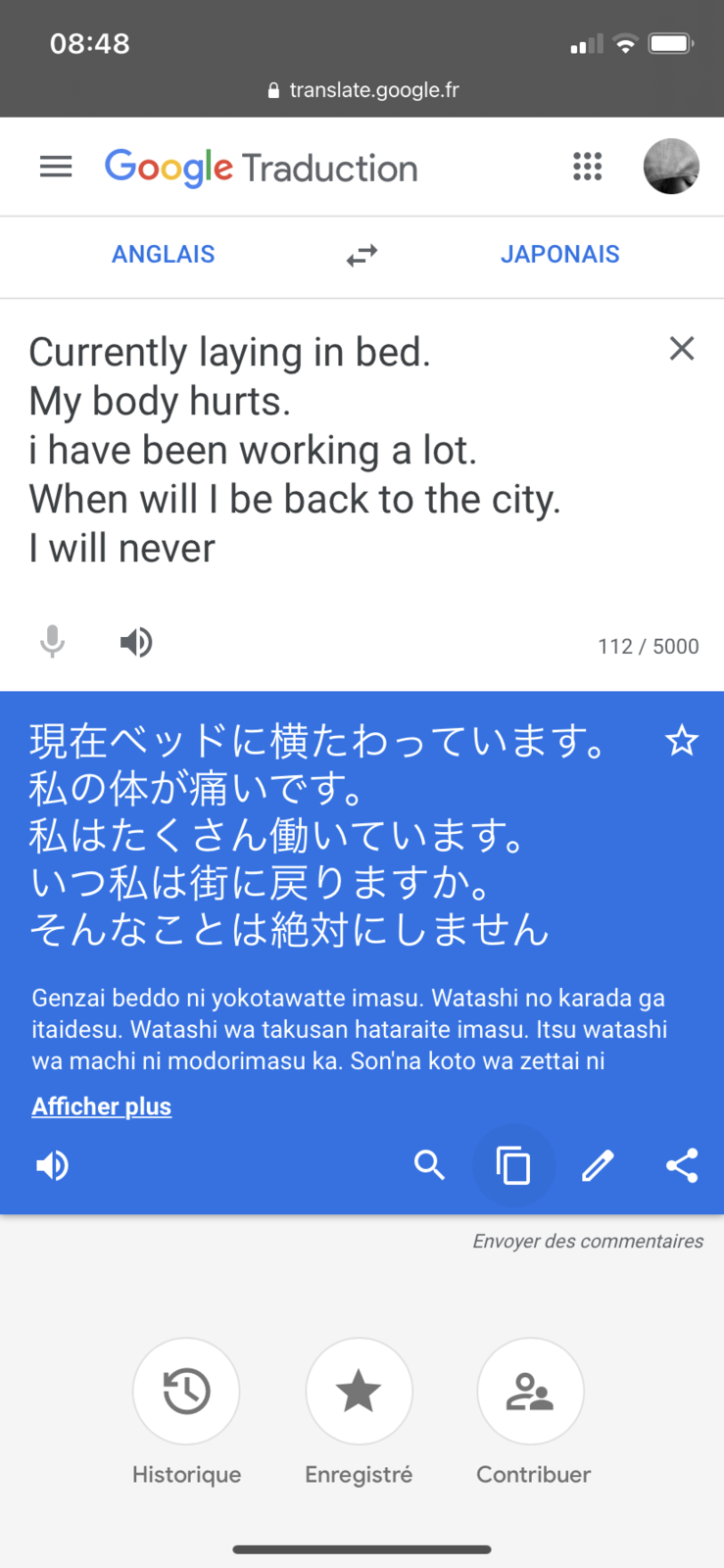 現在ベッドに横たわっています。
私の体が痛いです。
私はたくさん働いています。
いつ私は街に戻りますか。
そんなことは絶対にしません

Genzai beddo ni yokotawatte imasu. Watashi no karada ga itaidesu. Watashi wa takusan hataraite imasu. Itsu watashi wa machi ni modorimasu ka. Son'na koto wa zettai ni
Dialogue
"Currently laying in bed.
My body hurts.
I have been working a lot
When will I be back to the city
I will never "
Morning invented dialogue the last sentence is incomplete but I felt asleeo
Blog
It is okay to focus on the light at the end of the tunnel.
If you want to balance your patience and and calm, You need to purchase your patience early. So that everything is on autopilote mode.

Here is are some examples of autopilote mode :
- the same blocked expenses per week.
- the flight ticket already taken if going to escape destination
- Pocket money aside for the travel moment
- Get your travel bag ready (flight ticket printed/ passport photocopy, a dress, 3 tshirt, one bottom, 1 pyjama, socks, under, paracetamol, Sirop and pads.)
Create a calendar that will show how many days remain before you reaching your peace.

Now let me share an example :
Say you are wasting all your year being busy.
You decide to escape during the summer with your friends.
Well, now write down the departure date. And do a countdown until the peace day.

And each year re-start
Dear reader, I am not a patient women but I try to manage it.
With love,
A /25 years old girl
20/06/2021
"Summer begins but summer will end too"